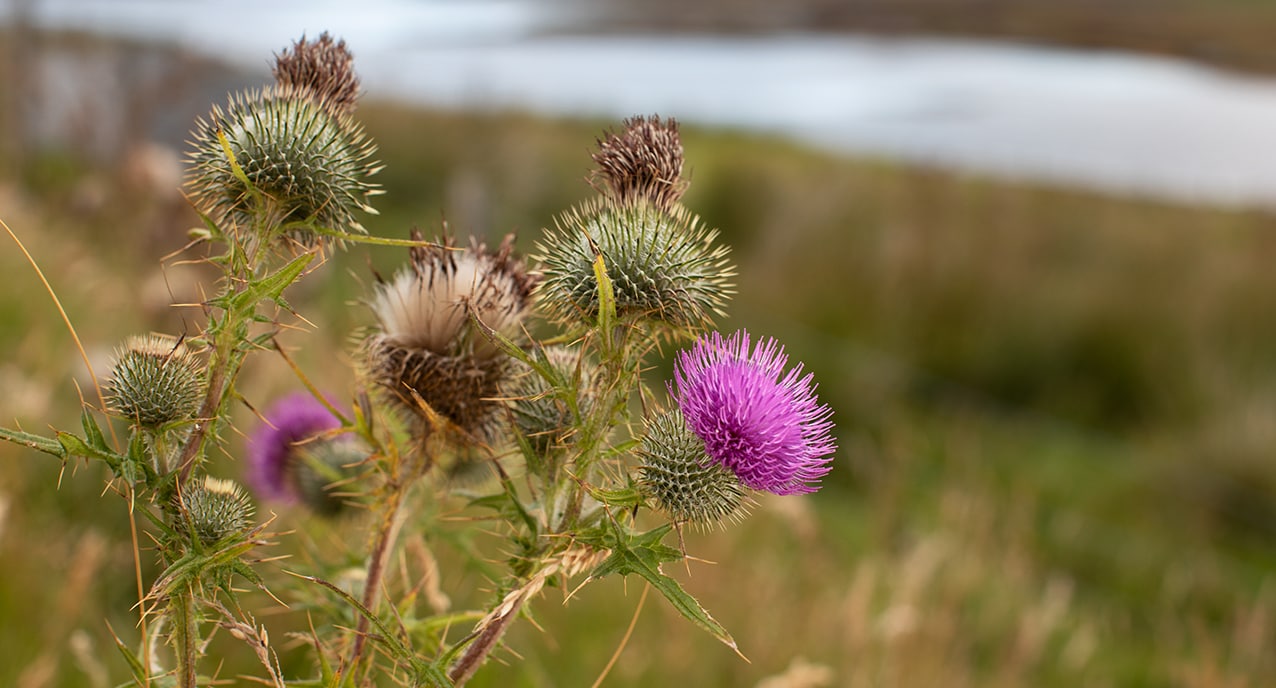 The thistle (In Gaelic, cluaran) has world renown as a national symbol of Scotland. This cultural association stretches back to at least the fifteenth century. Many of the explanations surrounding its adoption centre around the ferocious prickliness of the plant which guards it from man and beast alike. The most romantic of these is the legend of the careless Viking raider who stepped on a thistle during a surprise attack. His scream of agony alerted the unwary Scots and the attack was successfully beaten off.
The natural defences of the plant perfectly suit the associated mottos, such as that of The Order of the Thistle – the highest honour awarded in Scotland – Nemo me impune lacessit (nobody attacks me with impunity) and that of the Scottish suffragettes – Ye mauna tramp on the Scots thistle.
There is also great beauty in the plant and its highly definitive form lends itself well to emblematic interpretation and so it has appeared in many forms of art and design throughout Scotland. The obvious avenue of interpretation in knitting would be in some form of colourwork depiction, but one of the aspects of the thistle that I find most appealing is that its formidable structure surrounds an extremely delicate flowerhead which produces a thistledown as light and soft as air. This led me to explore the idea of representing the thistle in some form of openwork. The challenge was to depict both the strength and delicacy of the plant through shape, texture and openwork stitches.
The shawl will make a statement in any colour of Hebridean 2 Ply. I chose Wild Orchid for the large shawl to portray the stunning shade of the flower head in full bloom, whilst the small shawl in the Glen colour works together with the soft and subdued shades of the soutfit  to reflect the elegance of the thistle's fading beauty.