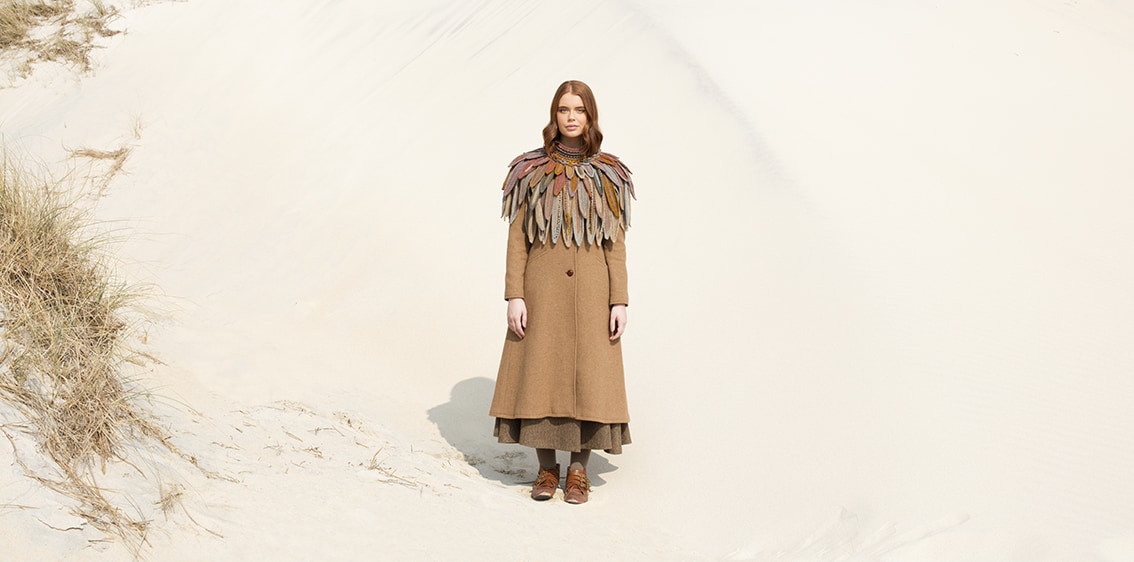 When you have completed your Lapwing Collar you will have learned and practised many knitting skills:  shaping by increasing and decreasing; using textured colourwork; knitting up stitches into finished components; knitting different layers and components together; working in the round, and finishing and blocking knitted pieces. These skills are transferable to a wide variety of projects, but if you want to keep experimenting with feathers here are some ideas.
For a very complex project you can try a large feather collar. The collar shown here (Jade's Collar) is made entirely using components from Glamourie. The main long feathers are identical to the Lapwing long feathers, but up and down-sized by changing the stitch and row numbers. They are attached together using the same method of knitting-up from the top edge. Picot feathers (from the Sea Anemone pattern) add texture at the front and back. They are complimented by three rows of small rounded feathers from the Raven Cardigan pattern, and finished off with a neckband from the Otter design. This is a challenging and time-consuming project, but well worth it if you want to make a statement.
If you fancy a quick feather project then the Raven Collar instructions are given in three different sizes in the Raven Poncho pattern. This is a faster project and a great way to experiment with colour. For a full garment the Raven Cardigan uses both feathers and extreme shaping in the cuffs, which will broaden your shaping experience.