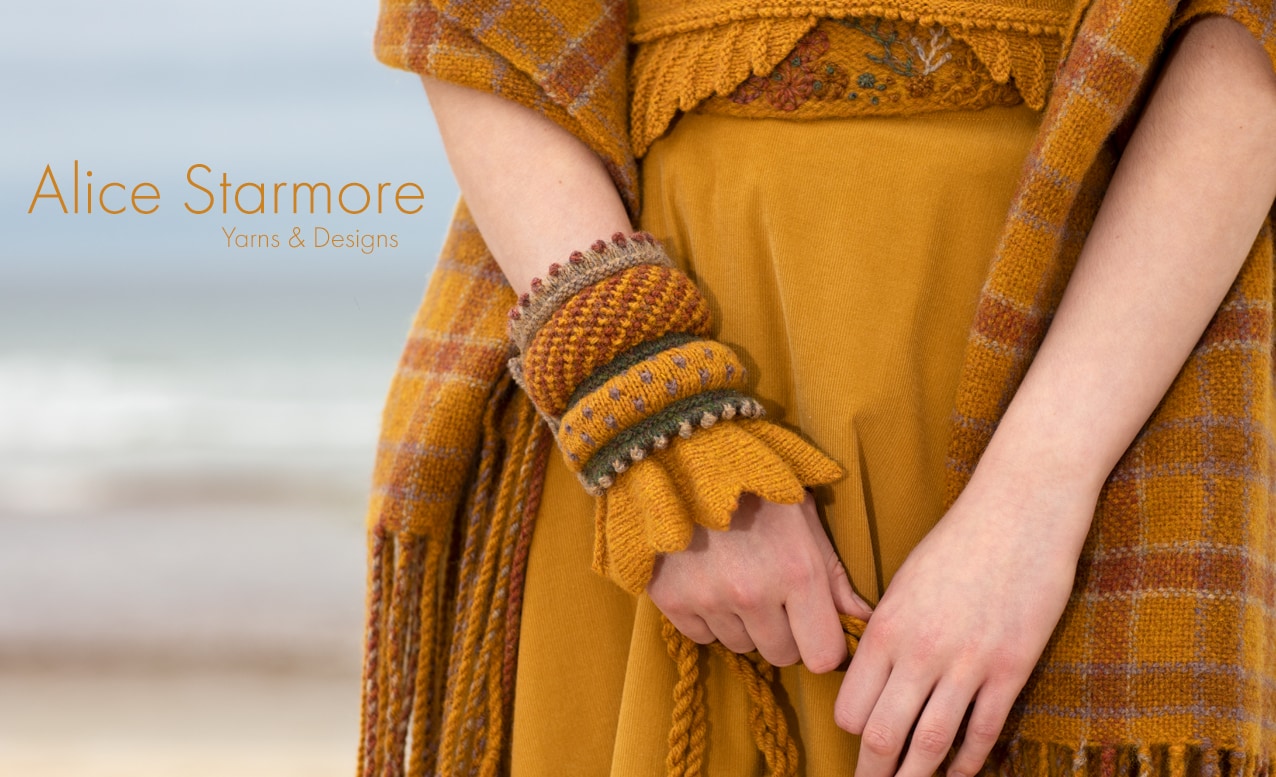 Our video class kits come with a patterncard containing full instructions along with all of the yarn required for the design, plus access to online video tutorials for the relevant project. Our digital only courses and classes come with an online login for viewing your course material. Each of these projects provides skill and technique development that will help you to enhance your knitting knowledge.
For those with an interest in costume techniques the Lapwing Collar Class Kit provides an excellent and in-depth look at complex construction and shaping, and manipulating knitted pieces. Aimed at all abilities from beginner on this is an ideal project for gaining an understanding of using hand knitting to create unusual costume pieces.
For costume techniques involving knitting, shaping, felting and embroidery Creative Course 1 is an online digital course which provides 9 hours of tutorials giving you an excellent foundation in creative use of felting and embroidery for both practical and artistic outcomes.
Creative Course 2 covers innovative ways of manipulating knitted fabric during the making of a costume piece in miniature. For this project I have developed methods of working within knitting to produce pronounced and elaborate 3 dimensional shapes which I have turned into a highly creative decorative accessory.
In the Infinite Cable Class you will learn how to read and understand charted cabled and textured patterns which include infinite lines of different weights. You will learn how to work a variety of textured patterns, make bobbles and simple openwork, all of which are combined to produce an elaborate design in one small square. You will also learn how to block, sew up seams and pick up stitches to make mitre-cornered edgings for a 24 square blanket or throw of heirloom quality. The techniques you will learn will enable you to knit any cabled and texured design with ease and confidence.
If you have an interest in learning stranded knitting the perfect place to start is with the Briodag kit, which includes three classes with over 3 hours of tutorials split into easy-to-find sections. They take you through the making of the scarf, beret and gloves. The scarf introduces you to openwork and short row shaping, while the beret and fingerless gloves provide detailed views and explanations of the intricacies of stranded knitting and shaping in the round. You will learn how to complete each of the items for a perfect finish. This project is suitable for all abilites from beginner onwards.
The Henry VIII Hat Set is an intermediate class focusing on the complex glove cuff of the set. This design follows on from the stranded skills learnt during the Briodag Class, teaching you how to pick up perfectly, a skill which is invaluable for larger garments such as cardigans.
The Sulaire Shawl is an ideal introduction to openwork from beginner onwards; the classes take you through the making of an openwork motif from start to finish.
The Cluaran Shawl builds on the techniques learned while making the Sulaire, further developing your openwork skills at an intermediate level with a more complex motif and edging.
The Staran Pullover is an exercise in textured pattern setting and cabling. This is suitable for anyone with basic knitting skills who can knit, purl, cast on and cast off, and who wants to progress to a textured project.
For those who are new to weaving the Beginners Weaving Class provides an online set of video tutorials for the Rigid Heddle Loom, showing you how to set up the warp and weave using my Hebridean 2 & 3 Ply yarn.
The Weaving Design Plans give online access to the layout, repeat and yarn instructions for 16 of my woven scarves and wraps, using both written word, photography and illustrations to show how to set your rigid heddle loom up to make these woven pieces.