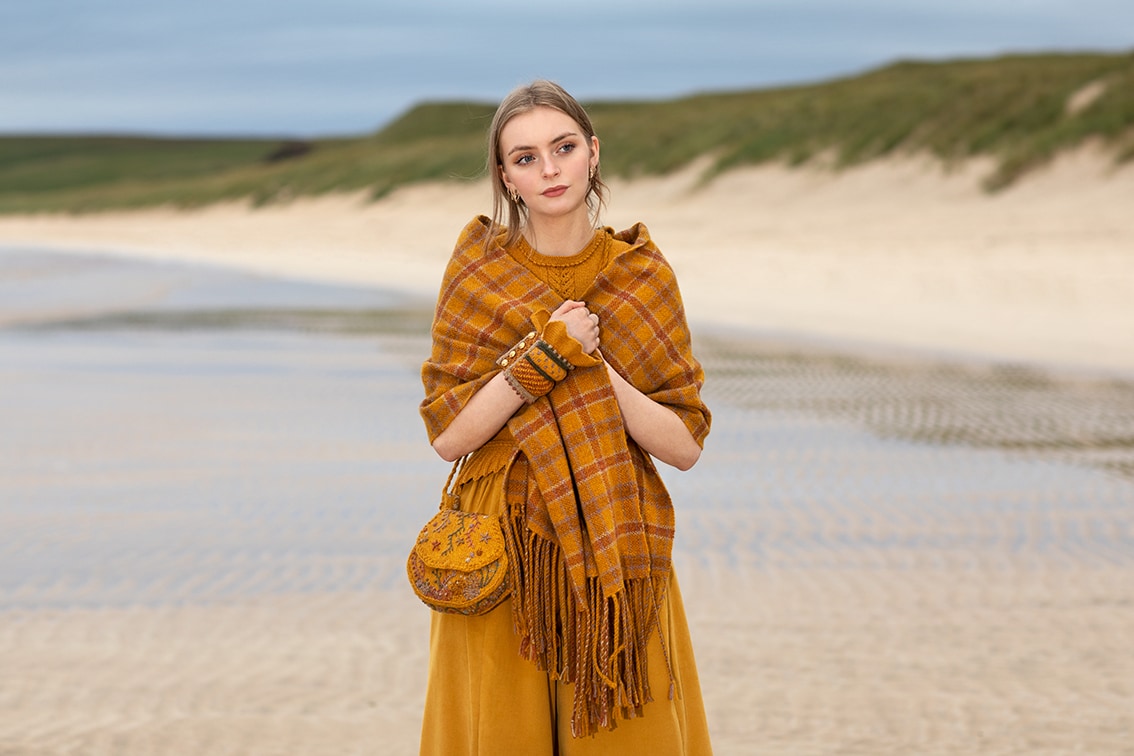 If you enjoy working with yarn and playing with colour then weaving on a simple loom is one of the quickest and most rewarding things you can do. I am quite addicted to my little Schact rigid heddle loom; it is a simple but beautifully constructed flip-folding table loom which can be set up on a table and easily stored. However, I like playing with it so much that I have it on a stand so that it is ready and waiting for whenever I have a spare moment.
The beauty of my Hebridean yarn is that it is strong enough to warp with. There is little I like more than to warp in one or more colours, and then plan the weft so that when the colours are woven, the interweave of warp and weft creates another layer of magic in the blended yarn colours.
Even with a basic tabby weave there is endless creative scope with colour patterns in either Hebridean 2 Ply or 3 Ply. Scarves and wraps are ideal as they are decorative, useful and they make perfect gifts.
Since we began to photograph the scarves and wraps which I have made using my Hebridean yarn there have been many requests for weaving tutorials, so here they are. The Beginners Weaving Class has 1hr and 45mins of video tutorials showing you how to use a rigid heddle loom, full samples and make tassels and braids. Weaving Design Plans contains the warp and weft layouts, guidelines and yarn amounts for 16 of my woven designs, all of which were made on a rigid heddle loom using Hebridean 2 Ply.
You can buy the Beginners Weaving Class and the Weaving Design Plan collection in the steek.scot shop.